Roll-Up Shop Doors
if you operate a retail storefront of any kind, you can benefit from the fact that our roll-up shop doors offer superior protection against vandalism and prevent unwanted entry. These durable doors provide advanced security you can rely on without sacrificing the use of your entryway. Regardless of the application, Cookson has a high-quality retail door for you.
Rolling security closures from Cookson are ideal in retail applications because they offer two sides of the same coin: visibility and aesthetically pleasing looks on one side and security and safety on the other. Because our rolling security doors and grilles coil up into the headroom when not protecting your store in the off-hours, they're available to use when you need them, and then roll up into the headroom to be as unobtrusive as possible when in the open position.
Grilles to Meet Every Need
No matter your needs, Cookson can assist with a robust product portfolio. Whether you're taking care of one individual store or many businesses in a shopping complex, we've got your loading docks, storefronts, receiving areas, and more covered with our rolling security closures. Roll-up security grilles can minimize opportunities for smash-and-grab thefts while offering longevity and durability for your retail location. Searching for resource that can give you information on some of Cookson's security grilles in snap? Check out our Grille Recommendations for Retail Applications Chart.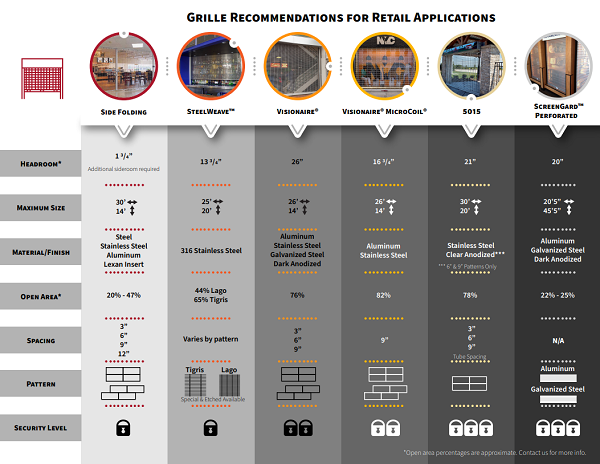 Exciting Addition to Our Retail Grille Options
Our Visionaire MicroCoil Grille provides entryway security with a low headroom percentage that's hard to beat (40% less headroom than other standard grilles on the market). At Cookson, we know some applications have distinct design needs and other limitations that can make finding the right standard security grille a challenge. It's why we created the Visionaire MicroCoil Grille as a compact and quiet option for applications with a tight fit like city storefronts, certain retail spaces, or historic buildings that can't be drastically modified.
Using 304 stainless steel links, this grille's sleek profile establishes not only a feeling of security but also a dramatic and beautiful aesthetic. These links are also easily replaceable and nest upon one another to contribute to the grille's hushed operation. Visionaire MicroCoil is available in "brick" or "straight" pattern options as well as stainless steel and aluminum finishes, depending on your design preferences.
Visionaire MicroCoil can be used with motor or manual operators. It also offers enhanced airflow and visibility because of the spacing between the links, making it ideal for applications where safety, airflow, and visibility are vital. This rolling security grille also has the added benefit of a locking option for even more security on hand. With headroom requirements as small as 15.5 inches, Visionaire MicroCoil can be your go-to in your retail application, historic building, or space that requires a low-headroom, standard cycle grille.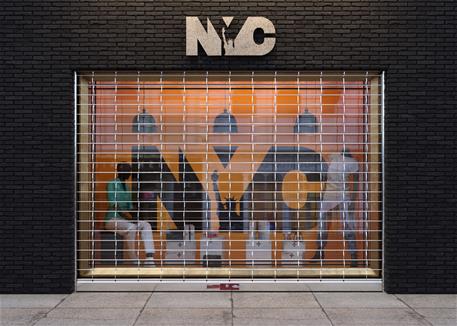 Style and security, together.
The Aluminum ScreenGard Aesthetic Package pairs a sleek design with steadfast security. Compact grille guides and a closure plate create a seamless appearance when the door is closed. When open, the door conceals gaps and vanishes into the ceiling, leaving you with a bold, unified look.
Download Support Materials
Check Out Our Retail Applications