Schools and Universities
Whether you're building an elementary school that needs corridor security for after-hours activities or a university dining hall with the need for a service window closure, we've got you covered.
STORM SHUTTER SOLUTIONS FOR EDUCATIONAL FACILITIES
At a school or university, you don't want to have concerns about the effectiveness of your storm shelter as a storm is heading your way. Prepare your educational facility with Cookson's StormDefender® Door, a reliable and durable option that offers versatility for your storm shelter needs. Because it's practically invisible when not in use, StormDefender can be a silent soldier in the background until called in for duty. Rest assured that this rolling security storm shutter meets International Code Council (ICC) 500 standards and Federal Emergency Management Agency publication 361 (FEMA P-361) standards when in use, providing excellent protection in the event of an intense weather emergency. Cookson also offers CrossingGard® Closure Products with ThreatProtect™, including our egress door and security grille. These closure solutions are designed to give building occupants a safe exit or create zones to deter threats.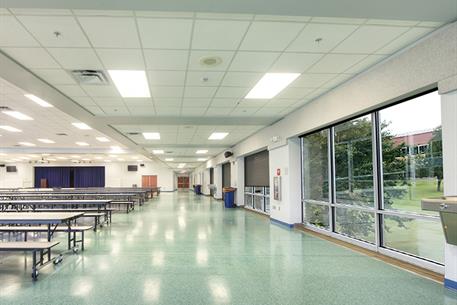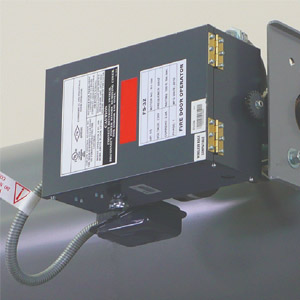 A DISCREET AND DEPENDABLE HURRICANE SECURITY CLOSURE
Cookson's StormDefender Door stays hidden until needed in a severe weather situation. Because this door is manufactured with both retrofit and new construction applications in mind, StormDefender is easily installed into precast concrete with minimal protrusions. When you need a dependable storm shelter in minutes, this closure solution is ready. StormDefender features sound-deadening endlocks. It also has shutters designed with interlocking slats for reliable protection from winds up to 250 mph when in the closed position. This storm security door is paired with our award-winning AlarmGard® system to provide failsafe operation in the event of a power failure – closing the door to protect students, staff, and other building occupants during a hurricane or tornado.
Many types of facilities can benefit from the safety StormDefender offers, including emergency service facilities (police, EMS, 911 call centers, or fire stations), educational spaces such as schools, colleges, and universities, and community centers like fire halls and gathering areas.
SECURITY WITH AN AESTHETIC TWIST
We understand that rolling security closures should provide dependable operation and appealing aesthetics. At Cookson, we have an array of design options to take StormDefender to the next level of aesthetic appeal, including our durable SpectraShield® powder coat in over 180 colors to blend in or stand out with your existing designs and colors while showcasing your school pride.
You can also prominently display your school's logo or mascot on your security rolling door with ImageMatch™ finish. ImageMatch is a unique, ultra-violet-cured printing process that creates vibrant, full-color designs on insulated, fire, and counter doors (up to 18' wide).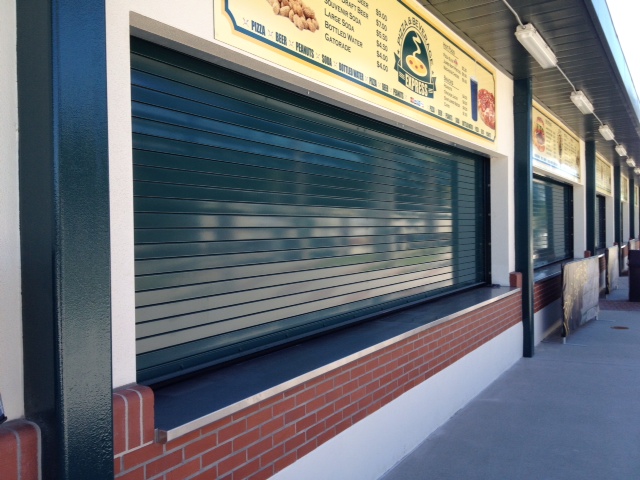 STORMDEFENDER'S PROVEN ADVANTAGES
StormDefender can help you create an ICC 500 and FEMA P-361 safe room for your school, alleviating worries about protecting students and staff during a natural disaster. StormDefender boasts the following:
Adaptability: StormDefender is manufactured to transform double doors and large windows into supporting structures for a storm shelter with ease.
Bespoke Options: Cookson's StormDefender Doors are all created to your exact measurements and specifications, including larger dimensions for bigger areas.
Sanctuary: Our storm shutters are able to withstand 250 mph winds and the force of a 100 mph impact thanks to our patent pending windlocks, helping to create a safe and reliable storm shelter in your educational facility.
Safeguards: Because StormDefender is paired with our AlarmGard® system, alerting nearby occupants of impending danger is easy. AlarmGard features a flashing strobe light and an audible alarm to announce an impending storm, hurricane, or tornado to anyone close to the storm shelter.
Powder Coated Security Doors Harley Davidson
We had to have rolling doors for security, and were very happy when we found out Cookson could provide them in the exact orange color that matched the Harley Davidson color scheme. It made everything come together. Robbie Buck Manager - Harley Davidson Distributor - Kansas City, Missouri