What Is a Rollup Door?
Rollup doors use slats of galvanized steel, aluminum or stainless steel that roll up to store in an overhead coil. They provide industrial, commercial, institutional and other buildings with security against unwanted entry and weather protection. They are often wind-rated, designed to meet wind load requirements to help businesses adhere to stringent building codes.
Our durable rolling service doors feature an overhead coiling door design with industry-leading advantages like:
Selection: You get your choice of manual or motor operation for ease of use.
Customization: We manufacture custom door designs with commercial-grade materials.
Reliability: Our rolling doors have minimal maintenance requirements.
Every rolling door is custom-made to your specifications, designed to handle up to 50,000 open and close cycles and engineered for daily use. Additionally, all rollup doors are customizable with a variety of standard colors, finishes, treatments, windows, door sizes and more. They provide unequaled quality and value.
How Do Rollup Doors Work?
Commercial steel rollup doors and aluminum rollup doors are common in commercial usage. These aluminum or steel doors consist of many thin horizontal sections that fit into universal fastening guides on either side. The doors also come with brackets for support and other assorted door hardware. Some door models have deep guides for larger doors, while smaller models, like bar counter doors, are suitable for wall mounting inside a business.

Many of these rollup doors use direct drive operation rather than the chain hoist operation of garage doors. When the user opens the door, either manually or with a door opener, the direct drive operator moves the sections upward through the guides as one smooth, rolling sheet. The same motion allows the user to close the door again.

This smooth operation, plus the quick installation and relatively low maintenance requirements, demonstrate how user-friendly rollup doors are. Additionally, repeated testing proves how durable these doors are.

When not in use, rollup doors fit snugly into their frames to provide superior security, meet certified wind load rating requirements and offer special features for commercial installation where needed. Some businesses may choose to cover their metal rollup doors with door curtains when they are not in use.
Industries That Rely on Rollup Doors
In what applications are heavy-duty rollup doors advantageous? These convenient commercial doors are common in industries like the following: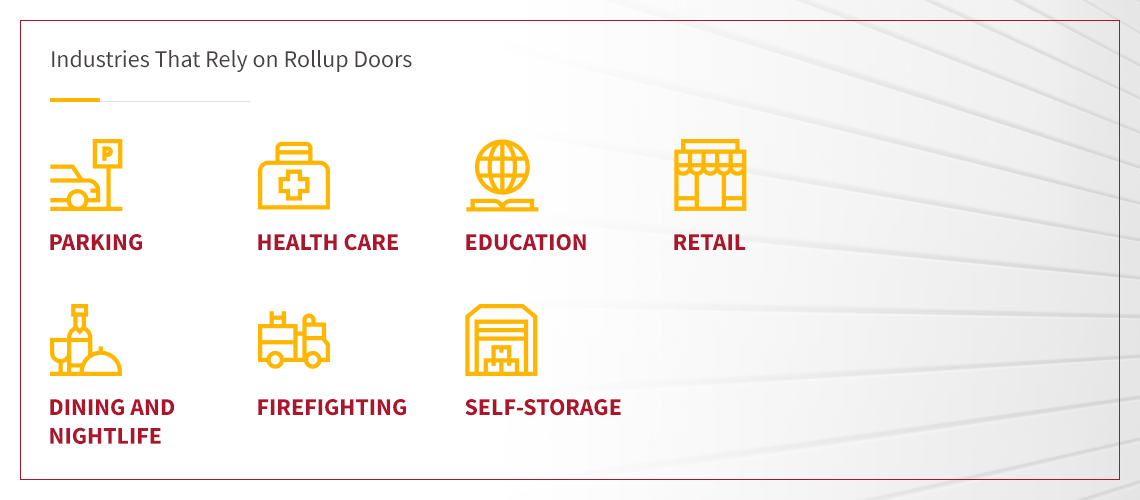 1. Parking
Parking structures often use heavy-duty doors to provide secure entry for patrons. Because rollup doors are so durable and strong, often with exterior slats of 24-gauge steel, they offer excellent long-term solutions for parking garages. Their sturdiness means they provide security and valuable peace of mind for patrons leaving their cars inside.
Using a grille-style door is often an ideal solution. The heavy-duty commercial door provides security and protection, while the grille design allows for easy visibility to provide greater peace of mind and additional theft deterrence.
2. Health Care
Health care facilities often use rollup commercial sheet doors as exam room shutters, particularly in settings that offer behavioral health treatment. In a health care setting, the security of medical implements and equipment is critical, and using a rolling steel exam room shutter helps provide safety and peace of mind.
The shutter effectively seals off the sinks, cabinets and equipment, preventing patients from gaining access to oxygen tanks, sharp scalpels and other potentially dangerous implements. A steel rollup shutter also provides aesthetic appeal and hides medical equipment that could intimidate patients.
3. Education
Schools and universities frequently use rolling sheet doors in various areas. A school or university might use a rollup shutter to seal off the food service area when it's not in use or safely close a project gallery. Or, a primary or elementary school might install a rolling steel door to give staff members the flexibility to confine after-school activities to one area of the building.
4. Retail
Retail stores frequently use rollup shop security doors when they close for the night. Heavy metal rollup doors protect against theft and vandalism. Choosing a grille option gives a storefront this extra security while still allowing passersby to look into the store and see everything it offers. For stores located in shopping malls or other large areas, rollup grilles or shutters provide the flexibility to close securely before the main facility does.
5. Dining and Nightlife
Restaurants and bars commonly use rollup sheet doors to secure inventory while maintaining the business's aesthetic appeal. A bar might use a light-duty rollup counter door like a steel curtain to protect the alcohol behind the counter at the end of the day. Or, a restaurant might use a heavy-duty commercial sheet door to secure the doorway or seal off the patio and outdoor seating.
6. Firefighting
Fire stations commonly use overhead doors to allow their fire trucks convenient entry and egress. In an emergency, time is of the essence — and rollup doors open quickly and easily to get the trucks on their way as fast as possible. Our Extreme 1024 high-performance rollup door, for instance, opens three times faster than typical overhead commercial garage doors. Firefighting doors are also built with ease of maintenance in mind so busy firefighters can focus their energy on responding to emergencies.
7. Self-Storage
Self-storage facilities use rollup industrial doors for security and protection. Their strength and durability help keep customers' belongings safe from theft. The right self-storage doors can also protect stored items from fire and inclement weather, especially if they are wind load-rated.
Customer-Favorite Commercial Rollup Doors
Depending on your needs, we have an extensive selection of high-performance, energy-efficient and fire-rated products to choose from, including the following.

Energy-Efficient Commercial Rollup Garage Doors
Insulated garage doors tend to be one of our most popular models because they protect a building from the elements, stop unwanted entry and help make a space more energy-efficient. Thick, dual-layer insulation also results in sound reduction, making these doors perfect for any setting:
Thermiser® Rolling Insulated Door: The energy-efficient Thermiser Rolling Insulated Door uses our patented door perimeter sealing system, which retains temperature, reduces noise and provides full protection from the elements.
Thermiser Max® High Energy-Efficient Rollup Door: If you need an energy-efficient door that is certified by the International Energy Conservation Code (IECC), the American Society of Heating, Refrigerating and Air-Conditioning Engineers (ASHRAE) and Leadership in Energy and Environmental Design (LEED), the Thermiser Max® Insulated Rolling Door is the answer. Constructed with two layers of steel and insulation, this is the option with the most energy efficiency.
Fire-Rated Rollup Service Doors
Rollup fire doors are rated structural fire barriers that help block the spreading of hazardous fire and smoke by compartmentalizing a building space and keeping the event isolated. Many buildings today mandate the placement of rolling steel fire doors as a standard safety precaution.
The Firemiser Insulated Rolling Fire Door is perfect for an exterior application and reduces sound transfer thanks to mineral wool insulation. Mineral wool insulation also minimizes thermal transfer, which can help you with temperature control inside your building. Opt for the SmokeShield™ seal package for your fire-rated door if you're required to conform to UL 1784 or want an additional barrier to eliminate smoke migration throughout your building.

Request a Quote Today
Cookson Door is one of the leading rollup door manufacturers. As such, we're committed to providing you with high-quality products and services throughout the entire door selection process. No matter the need, our rollup door support team is here to help you find, design or specify the right door for your project, as well as provide installation manuals and support. Contact us today to request your quote or get product information on a door that meets your requirements.