Roll Up Gate
Roll up gates separate and secure areas without preventing visibility or air flow. Manufactured with solid aluminum rods connected by heavy duty eyeletted metal links, the entire security curtain coils up and stores above the opening until deployed.
Security without limits
When you need to secure a building inside or out, but do not what to confine the visibility or air flow, a roll up gate is the perfect security solution. Security gates are engineered in a variety of configurations but are manufactured with solid horizontal aluminum rods of various gauges that are connected together with vertical metal links. The entire curtain is secured to a steel shaft that is installed above an opening that needs to be protected. There are multiple counter balance shaft designs for different security solutions. These metal gates coil up around the shaft to store out of the way until the opening needs to be secured. The rolling gate opens and closes following guides on either side for a fast, smooth flow. A roll up security gate will allow you to secure different parts of a building at different times, such as in a school or museum, so that different areas can be utilized at different times without blocking air flow or views of the other areas. This is also advantages in outdoor areas, like a parking lot gate that environment and air flow can still be maintained.
Parking Lot Security
Security has become a greater concern in parking structures. Simple security arms only prevent some traffic, while a roll up parking gate will secure an entire opening from unauthorized traffic, including vehicles and pedestrians. Many hotels. Conference centers and other high traffic parking areas realized that preventing access is a much more effective means of preventing issues than any other security measures. One major issue preventing installations of parking lot gates is keeping the opening clearance level as high as possible. ADA regulations require a minimum of 98" to accommodate wheelchair access vans. When it comes to parking structures, utilizing as much space as possible is crucial. A typical overhead coiling parking gate will need 24" or more of headroom to be installed. Most parking garages do not have 24" of room to spare and still be within the 98" of compliance for ADA.
However, now we can offer the MicroCoil compact high-performance parking grille. Our MicroCoil security grille coils and stores in only 13" of headroom, nearly 50% less room than other exterior gates. This allows parking garages that previously were not able to install a parking gate due to headroom issues, a new security gate option. Utilizing 50% less headroom is just one benefit of the MicroCoil security gate. As one of most advanced security gates for business, it features opening speeds of up 24", about 3 times faster than other security gates. The only parking gate to feature patented nesting vertical links, it has a springless direct drive that ensures smooth, quiet starts, stops and operation. The virtually vibration free drive has a compact direct drive operator with no chains or sprockets. Fewer parts mean it is engineered for over 300,000 open and close maintenance-free cycles.
Request Information on Roll Up Gates
High-Performance Security Gates
When security is needed in a high traffic area, but you don't want the restrictions associated with a solid door, a high-performance roll up gate will get the job done. High-performance metal gates offer all the security of standard security grilles with the added benefit of faster opening and close cycles. This reduces the time it is open for additional vehicles or individuals to also sneak in. But increased speed is just one benefit, these metal security gate doors are built for the long haul. Engineered with a springless, direct drive design, it eliminates chains and sprockets that typically fail the most and require the most maintenance and upkeep. All high-speed grilles are designed to be maintenance free for over 300,000 cycles. When securing a high traffic area like a parking facility, longevity and limit downtime is a paramount factor. Additionally, all high-performance overhead rolling gates are paired with our Apex SmartControl (NEMA 4X) Operator. This provides intelligent communication features such as easy touch screen instructions, commissioning, electronic limit setting and error messaging. All high-performance roll up security gate operators have easy plug and play connections and safeguard light beam curtains as well as standard sensors to maximize safety. For parking gate installation, our MicroCoil high performance roll up gate coils and stores into a mere 13" of headroom for easy retrofits. You will find many high-performance gates in parking facilities and government facilities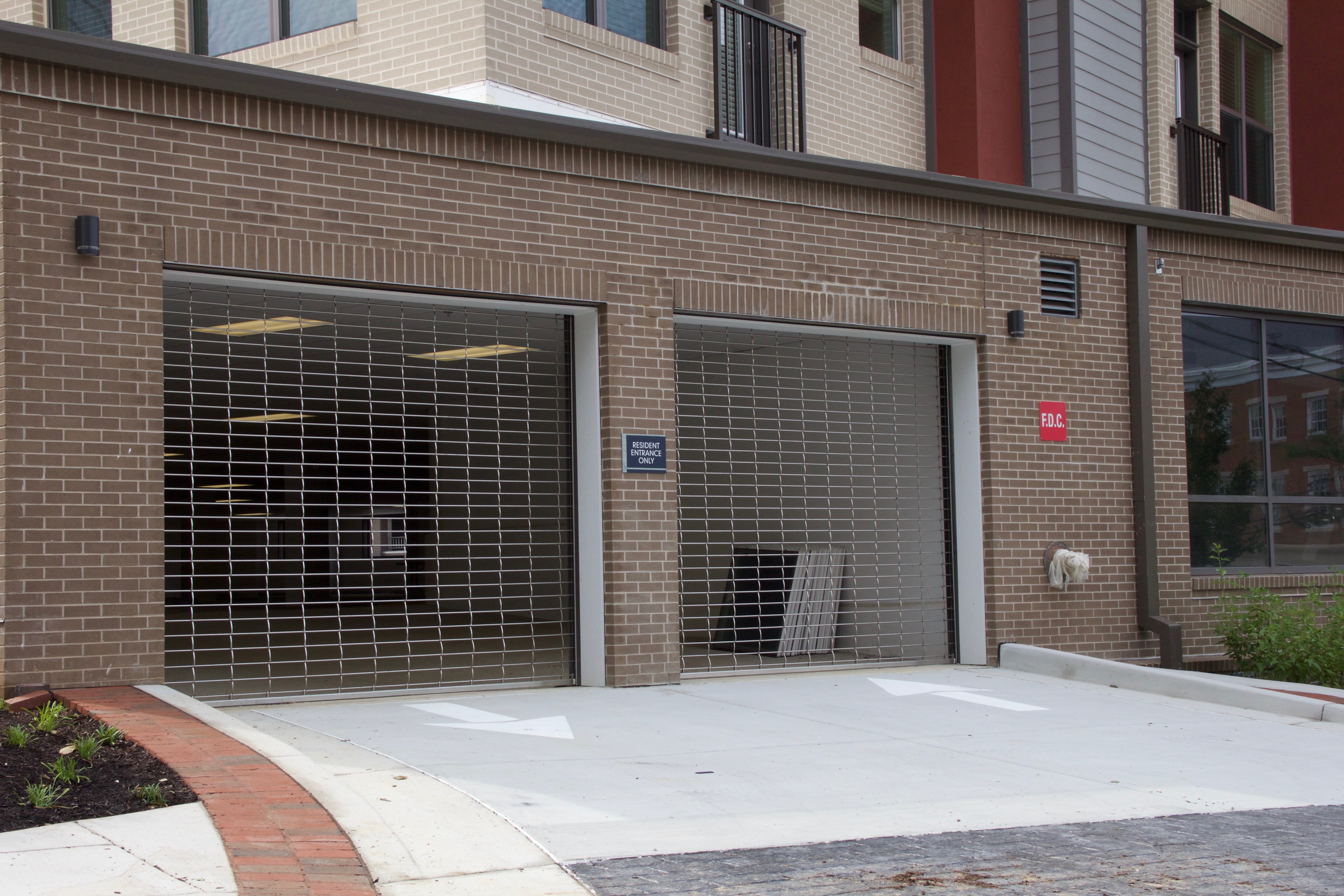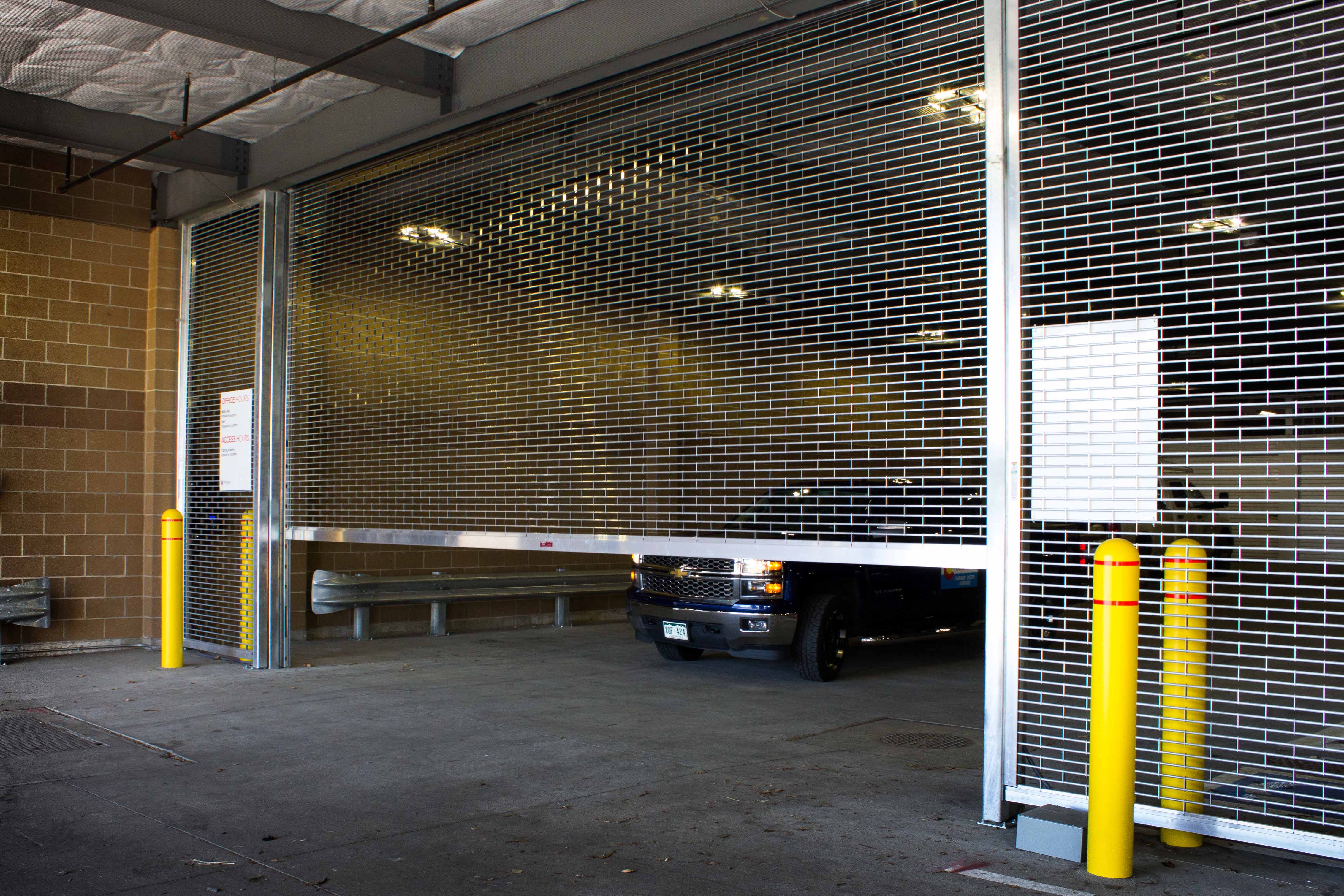 Heavy Duty Gates
All of our security gates for business offer superior security and protection but sometimes you need even more than that. Our heavy duty roll up gate goes above and beyond, with solid horizontal rods that are 33% closer and solid vertical links made from 50% heavier gauge metals that have spacers on each and every grille rod. Government buildings, high-end stores and buildings with unique security concerns all turn our heavy duty security gates.
Emergency Response Gates
Security grilles are great for dividing up multi-use buildings like schools and hospitals. Different areas are often used at different times and this helps secure areas at different times. When an emergency happens, emergency personnel, individuals in harm's way or the need to create a path of egress should not be hampered by a closed security gate. Our CrossingGard emergency response grilles are designed to automatically open when an alarm is triggered. There is also a bypass switch that will open the gate and trigger the alarm if it hasn't been activated yet. Once an emergency has been cleared, they automatically reset. CrossingGard's auto-lock feature prevents manual forced opening. When an emergency happens, emergency response gates can help save lives.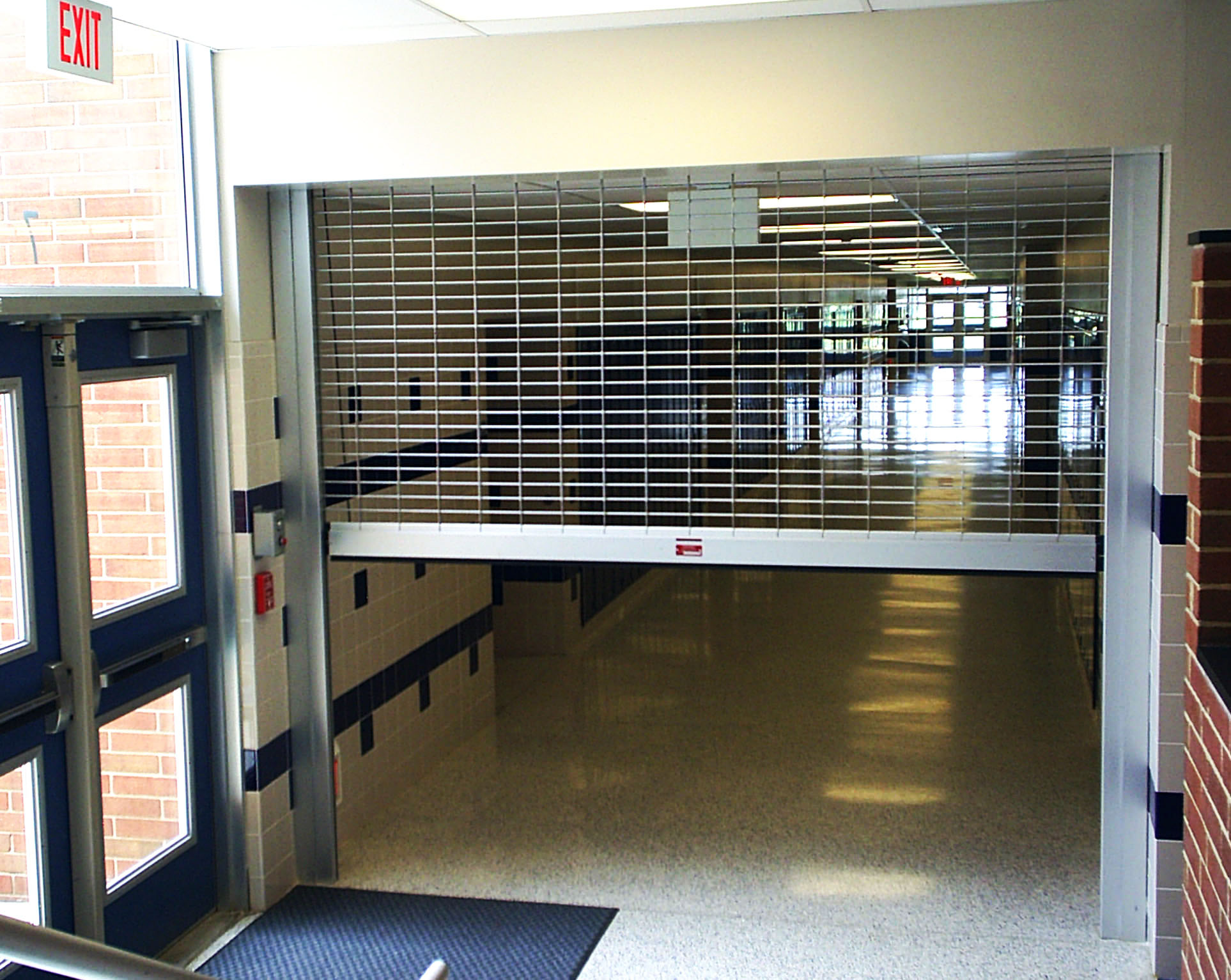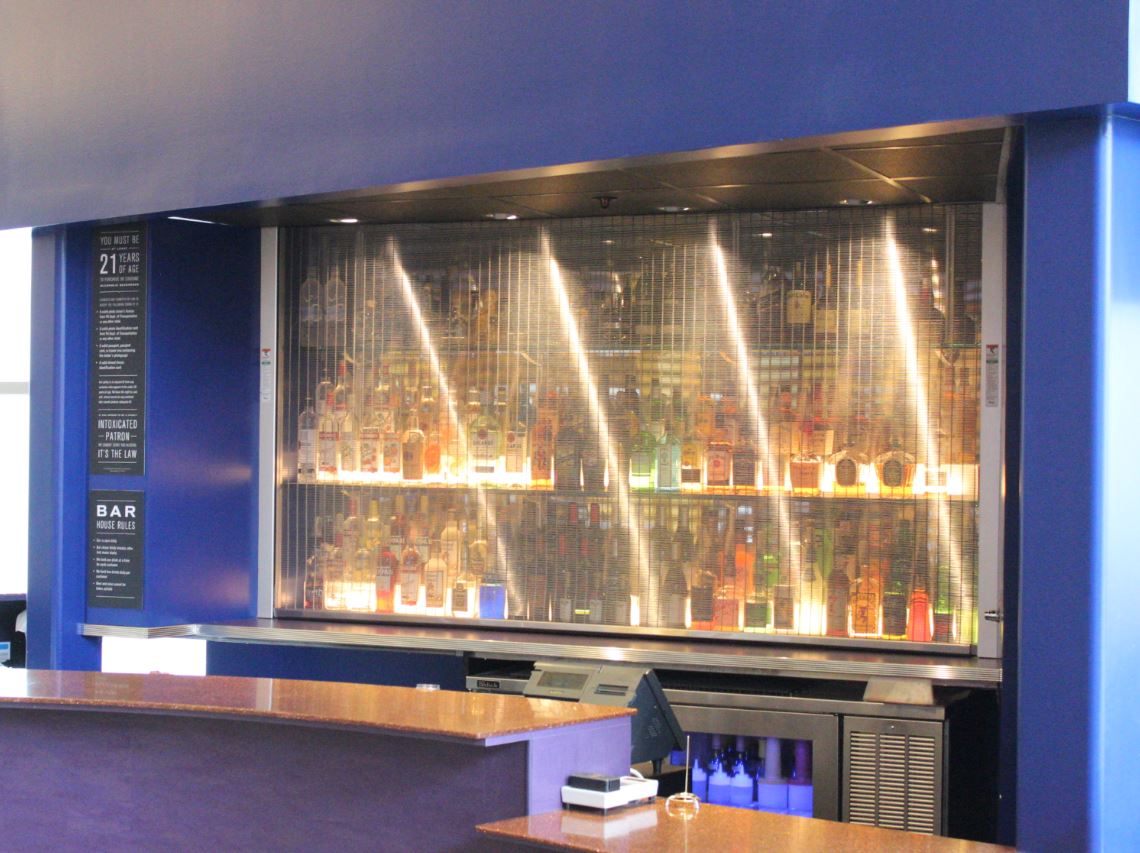 Fashionable Security Gates
Sometimes the standard look of a security gate just doesn't match the building décor or design. We offer our SteelWeave metal mesh grille offers a unique security gate option like no other. Tightly woven stainless steel links are intricately combined into decorative patterns that give any establishment a high-end sophisticated security solution. The result is an elegant, highly appealing coiling security gate that still offers excellent security features. For an ultimate look and branding, logos or images can be etched directly into the security gate's curtain.
For a sleek, smooth finish, our SentryGate roll down gate offers continuous metal rods connected with high strength injection molded composite. While still providing ultimate security, the black or white look is perfect for not only retail stores or behind storefront windows, but a secure weather resistant option outdoors. The manufacturing materials make it one of our lightest security grilles without losing protection, perfect for retrofits situations.