SAFE ROOM DOORS
Safe room doors are designed specifically with life safety in mind for safe room protection against tornadoes and hurricanes.
Safe room design
When it comes to safe room design, protecting life and safety of everyone is the number one priority. Typically, this would involve installing big bulky safe room doors that typically manually swing close or close through motorized methods but still need to be manually latched for full security. While great at protection, the manual steps and bulkiness have resulted in dark, claustrophobic and dungeon-like safe room designs.
StormDefender™ safe room doors have changed all of that. StormDefender™ enables open, airy, innovative safe room design. How? By being invisible until called into service. The innovative sleek construction allows for virtually undetectable embedment into precast concrete, creating minimal protrusion into the space. In addition, the coil may be hidden above a finished ceiling or into a soffit.
Safe Rooms in Schools
StormDefender™ provides a tornado room door with design freedom, especially when it comes to safe rooms in schools. Now open areas and rooms, like cafeterias and classrooms can be utilized as an ICC 500 and FEMA 361 rated safe room, while still having windows and open design. When school safe rooms were first being implemented, the often ended up in the middle of a building, with no windows which created compressed dungeon like designs that were very claustrophobic.
The near invisibility of StormDefender™ allows for innovative open and airy design freedom. Windows, hallways and openings an automatically sealed when a dangerous storm event is imminent. Doors, openings or even entire banks of windows can be shielded from high winds and flying projectiles. The StormDefender™ safe room doors simple automatically lower into place, no manual latching required, so personnel can focus on safe evacuation to the school safe room. No latches or heavy swing doors required. When the danger has passed, StormDefender™ simply retracts back into the structure and disappears.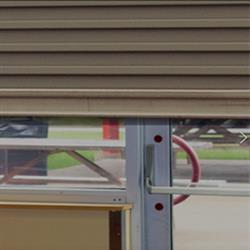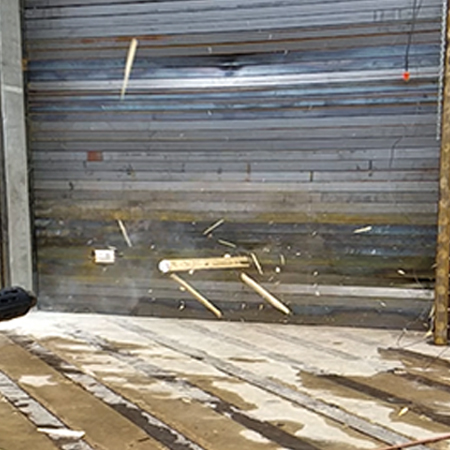 StormDefender™ - Built for protection
With StormDefender™ safe room doors, the open design does not sacrifice safety. StormDefender utilizes our award-winning AlarmGard system with fail-safe operation. When connected to a buildings alarm system, deploying the heavy duty slats automatically when activated. In the event a storm knocks out power, the door will automatically close to eliminate one more "to-do". Our patent pending tornado and hurricane door design includes patent pending windlocks that keep the safe room doors in the guides and prevents the curtain from pulling out of the guides during high-pressure events.
In fact, The StormDefender Door is tested to withstand high-speed projectiles leaving nothing but a dent less than 3". Along with the impact test, the StormDefender held effortlessly when exposed to wind pressure of 300 psf positive and negative pressure. This door is built to protect any opening through two of Mother Nature's most dangerous natural disasters. But don't take our word for it, the StormDefender™ has been tested and certified to stringent ICC 500-2014 and FEMA P-361, third edition code standards. Check out the test results!
StormDefender™ Invisible protection with design freedom
Not only do StormDefender™ safe room doors create tremendous new design opportunities for safe room design, but allow installing safety and hurricane proof garage doors that are aesthetically pleasing too. Even though our 12 gauge steel slat door curtain is powder coated in a standard gray, there are more than 180 SpectraShield standard powder coat colors available as well as customized color options, so your tornado and hurricane doors can complement any décor including stainless steel if needed.
For areas that encounter harsh wear and tear, our textured AtmoShield powder coat is also available. Available in both fire-rated and non-fire-rated models, StormDefender™ can be installed in virtually any type of room. This allows utilizing rooms that function well when there is not an emergency. The previous dungeon like designs limited the other uses of the room outside of safe rooms.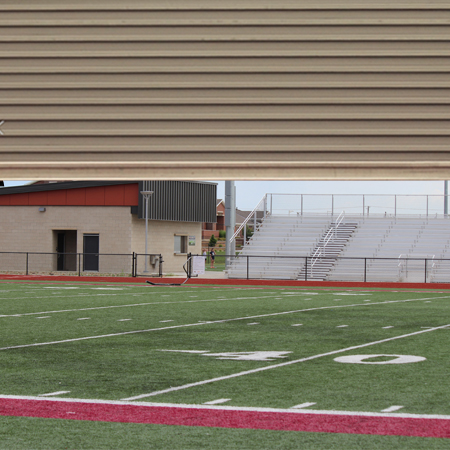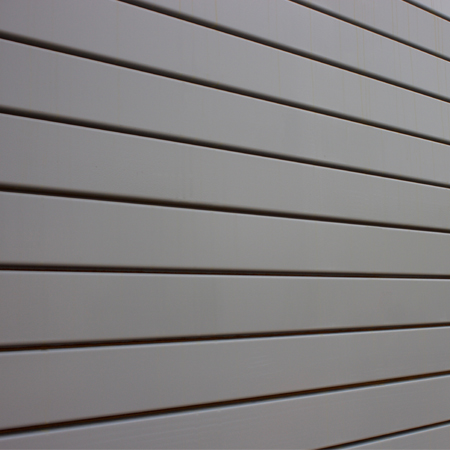 ICC 500 and FEMA 361 Compliant design
ICC 500 identifies where safe rooms are mandatory and how they must be constructed. States that have adopted 2015 edition (or newer) edition of the International Building Code must build safe rooms (designed in accordance with ICC 500) in certain building types located in the 250mph zone reference above. The building types are:
911 call stations
Emergency operations centers
Fire, rescue, and ambulance stations
Police stations
K-12 school buildings with a capacity of 50 or more occupants, with certain exceptions
While safe rooms aren't mandatory in hurricane-prone areas, ICC 500 still provides a good guide on how to properly construct safe rooms to save lives. Keeping occupants safe is the obvious goal, but ICC 500 Critical support systems must be functional for the minimum period of the safe room occupancy, which is 2 hours for a tornado and 24 hours for a hurricane —that's because hurricanes last much longer than tornadoes.
Federal funding is available

Originally, the Federal Emergency Management Agency (FEMA) created publication 361 (FEMA P-361) to provide guidance on how to best construct safe rooms. ICC 500 took much of that guidance and codified it, but FEMA P-361 is still important. Why? Because FEMA provides funding for safe rooms as a part of their pre-disaster mitigation and disaster relief program. Any project putting in for grant money needs to comply with not only ICC 500, but also FEMA P-361, which is more stringent. In 2018, $235 million funds were earmarked for this program.
Have a unique door solution, problem or specification? Contact our experienced Architectural Design Support Team for help in customizing our products to fit your specific application. Call 1-800-233-8366 Ext.4551 • Contact Us