Rapid Roll Doors
We have offerings of Overhead Garage Doors, High Performance Coiling Doors, Insulated Roll Up Doors, Security and Safety Coiling Doors to meet any need you have,
When you need an overhead rollup door for a high traffic area, rapid roll doors are the perfect solution. Our Extreme high performance doors are built for speed and meant to last.
Rapid roll doors are overheard coiling doors that are engineered to open and close 3x faster than normal garage doors. Featuring a springless design and made from high strength galvanized steel, fast rolling doors are perfect for high traffic building openings.
Smooth High-Speed Door Operation

Our Extreme 300 high-performance rapid roll doors offer intelligent operation and high door cycle life. 300 series rolling doors offer 300,000 open and close cycles of maintenance-free performance. The easy to install overhead door maximizes commercial door uptime which improves productivity. Operating at speeds up to 24 inches per second, this high-speed overhead door features a smooth high-speed operation. Equipped with a compact operator that features a variable frequency drive, our 300 series high-performance roll up door ensures a soft start and stop motions which reduce wear and tear on both the overhead coiling door and the door operator. In addition, the shaft driven direct drive design means there are no sprockets or chains to maintain, wear out or replace.
Superior Security Overhead Coiling Door
Our Extreme 1024 high-performance door model, is a superior choice for high-security needs and high-end use applications such as government buildings, distribution centers, manufacturing plants, parking facilities, transportation centers and much more. The Extreme 1024 High-Performance Roll Up Door offers the added benefit of being engineered to deliver over 1,000,000 maintenance free open and close cycles. No other overhead door delivers as much reliable security, no maintenance (outside of routine checks) and exceptional cycle life. These longest lasting doors have been tested to perform for more than a million cycles at an opening speed of up to 24" per second, which is three times faster than standard overhead coiling or sectional doors. The Extreme 1024 has the lowest lifetime cost and lowest cost per cycle of any rapid roll doors available anywhere.
Request Information on Rapid Roll Up Doors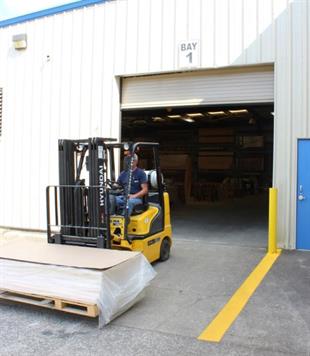 Industry Leading Energy Efficient Rolling Doors
Just by installing high-performance rapid roll doors means that by default, having your overhead coiling door open and close faster, less air exchange with take place. However, our high-performance doors go much further than that.
For ultimate energy efficiency improvement, our insulated models feature our patented Thermiser Max perimeter sealing system. This advanced commercial door air infiltration sealing system meets ASHRAE 90.1, 2015 IECC and California's Title 24 air infiltration requirements with an independently tested value of less than 0.3 CFM/FT. With practically no maintenance and high energy efficiency, our Extreme High-Performance Rapid Rolling Doors are the industry leader for the lowest lifetime cost.
Unparalleled High-Performance Door Benefits

Our 300 Series Extreme Roll Up Door features our Apex Smart Controller. When controlling rapid roll doors, having an intelligent control panel with plug and play wiring makes installing and servicing easier than ever before. Featuring an LCD screen that easily communicates door status messages, provides easy to follow instructions for door communications and electronically sets door limits, operating our high-performance doors becomes easy for anyone.
Equipped with factory mounted UL 325-2010 (NEMA4X) compliant photo-eye sensors, the monitored protection, even at high speeds, allows for momentary contact operation. This is extremely useful when rapid roll doors are installed in parking garages or other high use openings. Any interruption of the photo-eye beam before the overhead door fully closes will cause the door to immediately halt its downward travel and then reverse direction so it returns to the open position.
Cookson's SafetyGard light curtain attaches easily to the guide assembly. This extends approximately 6' high from the finished floor on both sides of the overhead rapid roll door so that if a coiling door is cycling and any object passes through the curtain beams, the overhead door will immediately halt its downward travel and reverse direction to the open door position. This provides a much more advanced measure of safety compared to standard overhead door single photo eyes.
Just because our high performance rapid roll up doors outperform the competition doesn't mean that they aren't available for options and finishes to make them more aesthetically pleasing or just as functional as any other overhead door.
Our Extreme high-performance rolling doors are manufactured in 18 or 22 gauge galvanized finished with our exclusive rust-inhibiting CycleShield finish or stainless steel rolling door slats. Cookson CycleShield finish provides friction and wear resistance for high cycle overhead door applications. The rust-inhibiting coating also resists acids, alkalis and oils at normal temperatures some it recommended for any exterior, corrosive or abrasive environments.
After the CycleShield basecoat is applied, high-performance rolling doors are then finished with one of our 180 stock SpectraShield powder coat colors or custom colors can be made. High-performance coiling doors have the ability to add customized slats, vision windows and hood and operator covers too.