Hurricane Garage Doors
When choosing a commercial service door for a building, Cookson's Steel Roll Up Doors and Hurricane Rated Doors are the top choice for architects and building managers worldwide.
Is your building's commercial garage doors safe against the weather?
Are they Wind Load Rated doors?
Hurricane garage doors are manufactured from high strength galvanized steel, hurricane proof doors roll up to store in a coil above building openings and designed to withstand high winds without failure.
Help Your Building Survive the Wrath of Hurricanes
Recent weather events have shown that catastrophic building damage occurs when substandard roll up doors fail to resist the wrath of recent hurricanes. This proves that all overhead garage doors are not equal when it comes to withstanding hurricane-force winds.
When looking for hurricane garage doors, searching your local wind load standards and building codes is a great place to start, but they can be confusing and vary greatly from area to area. Building codes and wind load standards have evolved to their current levels for good reason: Constructing buildings to meet their anticipated wind load requirements is vital to building survival. Ensuring that larger garage door openings meet their correct wind load requirements is particularly important. Even if a single overhead door is lost, internal pressure can lift the building's roof and destroy the entire structure.
However, making sure hurricane garage doors construction truly meet a building's wind load needs can be a challenge to architects and building owners. There may be confusion over which factors must be considered to make sure the doors meet the building's requirements and the difference between miles per hour versus pounds per square foot is often misunderstood. Ultimate test load versus design load is also often misunderstood. Plus, critical conditions like mean roof height, door location and roof slope that must be evaluated to produce a correctly designed product have to be considered.

Request Information on Hurricane Garage Doors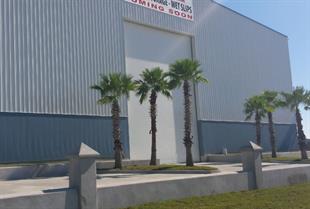 Cookson is ready to help make sense of these confusing criteria and provide the right hurricane garage doors to meet your project's wind load door requirements. Using our exclusive computer program developed in-house and validated by third-party experts, we are able to enter the required psf and product specifications to automatically configure your hurricane rated door needs. If only a mph figure is provided, we also have the tools to help correctly convert it to psf or identify the additional information that needs to be determined.
Cookson's wind load designs are performance validated through third-party testing to one or more of the following specifications:
ANSI/DASMA-108

ASTM E 330

Miami-Dade County test protocols TAS 201, TAS 202 and TAS 203

Florida Building Code (FBC)

Texas Department of Insurance (TDI)
Cookson also leads the industry with an onsite, wind load test chamber to provide proof of performance on their innovative hurricane garage doors designs. In addition to these physical design tools, Cookson employs a full-time Engineering Services staff dedicated to providing assistance to architects involved in the application of closure products.
Building damage caused by substandard doors during Hurricane Ivan: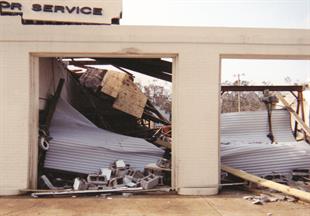 Our Hurricane Garage Doors after Hurricane Ivan hit: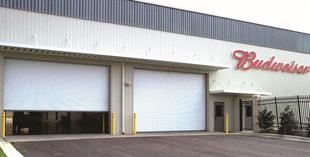 When it comes to hurricane rated garage doors and commercial doors with specific wind load ratings, the look of your commercial roll up doors does not need to suffer. Even when built to resist hurricane force winds, our overhead coiling doors still have multiple materials, finishes and options available. Out exclusive GalvaNex two-step baked-on polyester finish is available in gray, tan, white or brown. For an environmentally friendly, factor applied powder coat in one of our standard 180 colors, our SpectraShield® powder coating has been an industry leader. If that doesn't fit your need, we can make custom powder coat colors or even add logos and full-color graphics. For the toughest environments, our AtmoShield™ textured powder coating provides a thicker, more scratch resistant coating that combats harsh wear and tear.